Tour Krabi, Krabi Tour, Day tour Krabi, Half day Tour Krabi, Excursions Krabi, all tours in Krabi
Adventure Activity + Nature Entertainment (ATV Riding + Monkey Show)

Jc.Tour had set up the package for ATV Falling in Love People. With the best condition of ATV and the most difficult Route surrounding by the nature can make every ATV Riders get the full enjoy emotion for ridding.
By the long ride with the hard route, our ATV Instructor must train and explain every trick of ATV Ridding before start-let you advent the hard Off Road Way.
It is not easy to pass both Land off Road and Over the Water Off Road. For sure it is a hard job, but can make you refresh after finished the game.
After passed the difficult job, we let you leisure with a very funny and happy monkey show.
The monkey will show "How to work for their old Job" Climbing up to the Coconut Tree and chose a good coconut and rip it off for the owner.
Itinerary



Take coffee and dessert before the event
Listen to the lecture and learn about ATV Safety and driving fun.
Most challenging in the field with mud, water, Logs Bridge, test the balance hill, riding along the mountain path.
Learn how to make coconut sugar
Ride ATV on the main road toward Monkey School
See the clever monkeys show
Ride ATV back to the start point.
Enjoy with local fruits.
Transfer back to Hotel.
The Excursion will be serviced daily with 2 Round Picking Up:
- Morning Round: 08.30 AM
- Afternoon Round: 13.30 PM
Book Now!!! Gets FREE of Charge Transfer in (Airport-Your Hotel)
Price Included:
Hotel Transfer
ATV Ride
Helmet, Gloves, Boots, glasses
Dry Bag
Fruits, Drinking Water
Local Tour Guide
English Speaking Guide
First Aid Kit
Accident Insurance
What to bring:
Sun Protection
Swimming Suit
Camera
Sunglasses
Towels
The New clothes to change
---
Why Jc.Tour:
Jc.Tour had registered for Tourisme Company under the rule of Thailand Law: Inbound(34/00235)
The right registration must be checked, and you can check for Jc.Tour at http://www.tourism.go.th
Jc.Tour is the Top Responsible and Great Service in TripAdvisor Rank.
Jc.Tour has been registering for Accident Insurance all around the world (Inbound) This make sure that all the customer of jctour is covered by Insurance in every where.
Before, During and After the service, you can contact us 24 hours.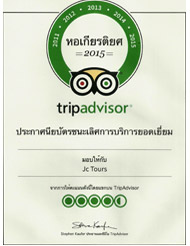 Telephone:
+66 89 5727603
Line: @jctour
Viber:
+66 98 7373153
Whatsapp:
+66 84 8053153
WeChat:
JC-Tour
Snorkeling Trip
Canoeing & Cave Trip
Adventure Trip
Sightseeing Trip
Dinner Cruise
Transfer
Other Trip
2Days 1Nights Package
3Days 2Nights Package
4Days 3Nights Package