Tour Krabi, Krabi Tour, Day tour Krabi, Half day Tour Krabi, Excursions Krabi, all tours in Krabi
Full Night, full Moon Party

Full Moon Party is a very large party on the beach and it is the funniest Party in the same time. At the party, the participants never think of going back to bed, and the night time will run very fast.

To get more fun by book the Package of "Full Night Full Moon Party"
JC Tour knows that "there are over 50,000 People who want to participate in this World Class Party", but the accommodation on Koh Pa-Ngan can be supported as just not over 10,000 People that make it very difficult and very expensive to book the Room in "Full Moon Party Period". Jc. Tour had set up the "Full Night Full Moon Party" Package for the people who are unable to book the room.

Why do you need to book this package?
Because you need to be a Participant in this Great Party once in your lifetime
To Be safe and secure, you need the "Professional Tour Staff to look after and facilitate the whole time of the Package (Start from the First Minute to the End.)
For sure that "We pick up from every hotel and drop off back to every hotel. During this  time, our staff will set up Lunches and arrange  the place to take a bath, Toilet or Sleeping Area.
Our office staff will be standing by at Rin Beach (Party Place) to look after and service in any urgent case.
How hard you have gotten drunk, for sure that there is a professional staff member who will take care of you back home for sure. As well as protects you in every problem. To make sure that you will get full of Party Happy without any worry about.
"Joining and touching the biggest crowd party of the world (Many secrets inside), Jc Tour takes you to join the Full Moon party as it is very safe and comfortable."
The Full Moon Party at Pha-Ngan Island has been considered by the tourists  to be the greatest Party on the beach of the world nowadays.
What reasons for this consideration?
Pha-Ngan is an island far from the mainland, in the Gulf of Thailand. The Island looks like it is hidden from the eyes of the world.
Full Moon Party has been set  on a very beautiful and quiet beach of Pha-Ngan, Haad Rin or Rin Beach.
10,000-20,000 People join the party on the long beach.
Amid the quiet and darkness of Night, the Full Moon at Pha-Ngan was considered to be the most beautiful in the world as well.
Going to Pha-Ngan is not easy (By car and ferry), it can screen the people who are trying to participate in the party and leave only the party lovers.
Jc.Tour Krabi invites you to touch this atmosphere, the "Full Moon Party, a time in your life. Package: 2 Days 1 Night" from Krabi is the one you are looking for.
There are about 10,000-20,000 people participating every month at this Koh Phangan beach party. It is known as the Full Moon Party. International and Thai DJ's make the crowd dance and go wild. Just paint yourself in UV colors and let your body lose control.

The DJ's play all kinds of music; Techno, Trance, Goa, Drum n Bass, Dub, Reggae, "commercial hits", House etc on about 15 sound systems along Haad Rin beach.

The beach has been equipped with small tables where you can sit down with your friends or meet new ones from all over the globe. Drinks and food can be ordered from the restaurants and the bars along the Haad Rin Nok beach.
| | |
| --- | --- |
| | |
Safety and Drugs

The Full moon Party is usually a safe place but please keep in mind; keep all values at home in a safe place such as a safety deposit box. Otherwise you might lose them, or make a thief happy. Be careful to walk away with strangers you don't know. Stay away from drugs, unless you don't like Thai prisons or want to end up in a "crazy hospital" in Surat Thani.

There are undercover police officers out there. Our suggestion is to stay away from so-called diet pills ("blue-whites"). People have become seriously sick after consuming too many of these without a prescription from a doctor.

Caffeine/taurine drinks such as Lipovitan, Red Bull, M-150, Carabao Daeng etc. can be bought almost everywhere. To most people, they are harmless if you are not allergic, or drink too much as caffeine in extreme dosages are probably not that good either. Not many wise people drink 20 cups of coffee either. Do not accept drinks from unknown people and keep an eye on your own. This is not an attempt to be a moral guide, we are just trying to tell the actual facts.

To Wear

We recommend you to wear shoes or strong sandals. Avoid dancing  or walking around barefoot. If you step on a broken bottle, your holiday can be ruined. On your body you need "only" some UV color. On your face a big smile. ;-)
Important

Please remember to keep these beautiful islands and the sea clean! Some people unfortunately use the Haad Rin Beach as a trash can.
If this, and other problems continue or even get worse in the future, there is a risk that the authorities will finally stop the party! Behave responsibly and let the party live on!
Please keep the beaches clean and be gentle with the natural resources on Koh Phangan

What is going on?

Don't waste your time on the Full moon Party if you don't like to meet people from all over the world. There are thousands of happy guys and gals dancing to pumping beats on a "paradise beach" in the moonlight. Or sit in the sand at the small tables with some friends and cheer a "Thai whiskey set" with local spirits like Mea Kong or Sang Som.
If you prefer beer, try a cold Thai beer such as Singha, Beer Chang, Archa or Kloster etc. There are also other beer brands available, such as Heineken, Tiger, Corona etc. and of course a number of non-alcoholic alternatives such as Gatorade and other sports drinks, fruit juices, fruit shakes and soft drinks.

If you are into dancing, do not forget to drink a lot of water so you won't end up dehydrated. Delicious traditional Thai food as well as pasta, pizza, burgers, salads, soups etc. is found in the restaurants and at food stalls. Prices are often very reasonable.
Program:

"Full moon Party on Koh PhaNgan." (2 Days 1 Night From Krabi)




Day 1




08.00 am.
Your tour guide, driver and the clean minivan pick you up at your accommodation in Krabi.

- Stop for a cup of coffee at the rural area - on the roadside.
12.00 pm.
Arrival at the Ferry Port.

- Lunch served at the seaside of the port restaurant. During this time, your service man from Jc.Tour will arrange the ferry ticket, set up the seats on the ferry, and load the minivan into the ferry too.

- The staff of Jc.Tour help to carry your belongings and lead you to the ferry, serve Staff serve the bottled drinking water and coffee (Upon your request) during ferry cruising.
13.00 pm.
Ferry leaves from the pier, directly to PhaNgan Island. You can select to stay in the air-conditioning or open air zone on the huge ferry. Sightseeing the beauty of the sea along the way (The route of the ferry passes a lot of small different islands) And sometimes you can see a group of dolphins jump over the water to play with the ferry.
15.30 pm.
Arrive at the port at Long Beach on Koh PhaNgan. The minivan picks you up to the resort for check in.

- On the white sandy beach, your hotel is on. We check in here - Sang Down Resort.

- Relaxing on the beach and swimming pool, getting freshy, preparing for the biggest party night.
19.00 pm.
The minivan picks you up at the resort for Party.

- Your service staff arrange the ticket for the party. And go on. "Let your heart guide you for how much you want to be fun"

- The time never limited, and your minivan, driver and service staff standby 24 Hours at the meeting point, they are ready to service once you need it




Day 2




| | |
| --- | --- |
| 07.00 am. | Breakfast at the resort. |
| 09.00 am. | Check out from the resort to the port. |
| 09.30 am. | The service staff arrange the seats in the ferry, and take a ferry out from Koh PhaNgan |
| 11.30 am. | Arriving at the pier. The minivan picks you up and transfers back to Phuket. |
| 12.30 pm. | Stop for lunch at an on the road restaurant. |
| 13.30 pm. | Minivan runs directly to Krabi. |
| 17.00 pm. | Arriving in Krabi, the minivan drops you off at your accommodation in Krabi. |
Schedule of Full Moon Party at Pha-Ngan Island
04 June 2023
02 July 2023
03 August 2023
31 August 2023
29 September 2023
30 October 2023
27 November 2023
27 December 2023
The Quiet corner of Pha-Ngan Island Resort
Nice Room, Just connect the beach.
Nice Swimming Pool & Beach
Private Minibus from Jc Tour service to Full Moon Party, Had Rin for round-trip and stand by 24 Hours.

And take back from big Lauder crowd Party to your Paradise of Sleeping Sang-Dow Resort Haat Yuan.
Price :(Private Trip)



| | |
| --- | --- |
| | 6,900 Baht/Person(Minimum at 2 people booking) |



Book Now!!! Gets FREE of Charge Transfer in (Airport-Your Hotel)
This price includes:
Round trip transfer from Phuket; (VIP Air-condition High Roof Minibus + VIP Ferry)
One night Deluxe Room at Sang-Dow Resort(Haad Yuan), heaven sleeping after a hard party.
Insurance: (Accident 1,000,000 Baht)
English Tour Guide
Meals: 2 Lunches, 1 Breakfast (No Dinner)
Minibus Service from Sang-Dow Resort to Full Moon Party (Haad Rin) all night.
Strongly recommend: book 1 week before.
This Package is Real Adventure, are you ready? If so, Book Now.
---
Why Jc.Tour?:
Jc.Tour had registered for Tourism Company under the rule of Thailand Law: Both Outbound(31/01235) for around the world travel. Inbound(34/00235) for traveling in Thailand.
The right registration can be checked, and you can check for Jc.Tour at http://www.tourism.go.th
Jc.Tour is the Top Responsible and Great Service in TripAdvisor Rank.
Jc.Tour has been registering for Accident Insurance all around the world (Inbound: for travelling in Thailand and Outbound for around the world travelling). This makes sure that all the customers of JC Tour will be covered by Insurance in everywhere of the world they reach.
Before, During and After the service, you can contact us 24 hours.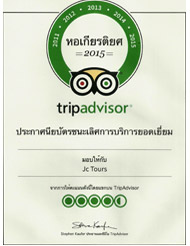 Telephone:
+66 89 5727603
Line: @jctour
Whatsapp:
+66 84 8053153
Snorkeling Trip
Canoeing & Cave Trip
Adventure Trip
Sightseeing Trip
Dinner Cruise
Transfer
Other Trip
2Days 1Nights Package
3Days 2Nights Package
4Days 3Nights Package