Tour Krabi, Krabi Tour, Day tour Krabi, Half day Tour Krabi, Excursions Krabi, all tours in Krabi
(Khoa-Khanabnum + Historic Cave + Fishing Farm + Fossil Area + Nemo Farm)
The Sea Shell Fossil; it is older than 3,000 years for this fossil area. If you like to study more about the earth, this is it.
Coastal Fishery Research and Development Cent or "Nemo Farm" is a good place to visit. You can see a lot of unseen kinds of fishes in this center.
Khoa-Kanab Num View Point, take a picture before we take the long tail boat into the Mountain.
Go into the deep mangrove forest safari to find out the hidden cave in the history is not easy. But we must go for the best.
Mysterious Cave which is hidden in the Mountains, this is a very popular place to discovery.
Enjoy to see every kind of fishes in the farm, our fish Farm staff will show you around.

---
Why Jc.Tour:
Jc.Tour had registered for Tourisme Company under the rule of Thailand Law: Inbound(34/00235)
The right registration must be checked, and you can check for Jc.Tour at http://www.tourism.go.th
Jc.Tour is the Top Responsible and Great Service in TripAdvisor Rank.
Jc.Tour has been registering for Accident Insurance all around the world (Inbound) This make sure that all the customer of jctour is covered by Insurance in every where.
Before, During and After the service, you can contact us 24 hours.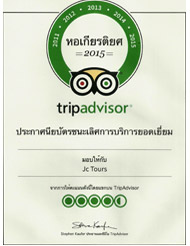 Telephone:
+66 89 5727603
Line: @jctour
Viber:
+66 84 8053153
Whatsapp:
+66 84 8053153
Snorkeling Trip
Canoeing & Cave Trip
Adventure Trip
Sightseeing Trip
Dinner Cruise
Transfer
Other Trip
2Days 1Nights Package
3Days 2Nights Package
4Days 3Nights Package