Tour Krabi, Krabi Tour, Day tour Krabi, Half day Tour Krabi, Excursions Krabi, all tours in Krabi
During your holiday in Krabi, you may need to have a day to touch the "World Class Destination of Tourism-PHUKET"

Jc.Tour has a very height Expert connection with every interesting unseen place during Krabi and Phuket.

Jc.Tour Krabi had set this program for everyone who having holiday in Krabi, but want to see Phuket within one day.

The bellowing is the highlight pictures and brief program of the package which is the important factor for you to make consideration to book this trip.
Pung-Chang Cave (One of the Unseen Place of Thailand)
The unseen place of Thailand, not many tourists had been here because of they need a quite high expert tour guide for visiting the place. (Getting There by Canoeing, Bamboo Rafting and Walking)
The Deeply Love Bridge (Sarisin Bridge) combined between the Island and the Mainland, but very nice view point and very lovely story (Our tour guide will tell you about this)
Chalong Temple, This temple is both the meaning of Phuket Province. (Very nice and most beautiful Pagoda in Phuket)
Pearl Aquarium and Factory (showing the First step to the end of Pearl Shell Growing)
Most Beautiful Sunset Cape (Promthep cape and 3 Beaches View Point)

---
Why Jc.Tour:
Jc.Tour had registered for Tourisme Company under the rule of Thailand Law: Inbound(34/00235)
The right registration must be checked, and you can check for Jc.Tour at http://www.tourism.go.th
Jc.Tour is the Top Responsible and Great Service in TripAdvisor Rank.
Jc.Tour has been registering for Accident Insurance all around the world (Inbound) This make sure that all the customer of jctour is covered by Insurance in every where.
Before, During and After the service, you can contact us 24 hours.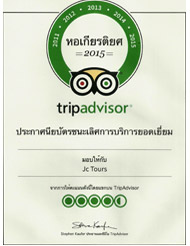 Telephone:
+66 89 5727603
Line: @jctour
Viber:
+66 84 8053153
Whatsapp:
+66 84 8053153
Snorkeling Trip
Canoeing & Cave Trip
Adventure Trip
Sightseeing Trip
Dinner Cruise
Transfer
Other Trip
2Days 1Nights Package
3Days 2Nights Package
4Days 3Nights Package