Tour Krabi, Krabi Tour, Day tour Krabi, Half day Tour Krabi, Excursions Krabi, all tours in Krabi
Krabi Hot-Spring Spa Treatment:
Spa treatment is very popular in Thailand, there are so many nice Spa Treatment places  around Thailand. But at Krabi Hot-Spring Spa treatment is difference;
We have a sources of Spring Water which was found since last 20 years and prove that "the water has been nature mixed with rich beneficial minerals (Good for health)
We have built the pools for keep the mineral water from hot spring in difference temperature: range from 36-42 C.
Our Spa area was decorated on the basic of Nature beauty which was located on the real waterfall safari.
Both Natures pool of us have been hidden from the cold water and make you feel very happy with Hydrotherapeutic.
Our programs in Nature Spa:
Hydrotherapeutic Bath
Practice the art of Thai Self-Massage
Full Relaxation Massage by our high expert therapist at our private Hot water River
Explore the Hot Waterfall and the Tropical Plantation
A healthy Thai Lunch and Unlimited Herbal Drinks and Tea.
Our high standard of both equipment of the spa and Therapists mixed with the real nature of the beautiful place can make you forget all the matter to hide. Yes, It can make your day the happiest.
Afterward, this tour package will fully  fill the happiness in your day by shopping (More Therapy by shopping) at the most fair price market. Local Street Market. Funny, lovely, great local people with the local products.

---
Why Jc.Tour?:
Jc.Tour had registered for Tourism Company under the rule of Thailand Law: Both Outbound(31/01235) for around the world travel. Inbound(34/00235) for traveling in Thailand.
The right registration can be checked, and you can check for Jc.Tour at http://www.tourism.go.th
Jc.Tour is the Top Responsible and Great Service in TripAdvisor Rank.
Jc.Tour has been registering for Accident Insurance all around the world (Inbound: for travelling in Thailand and Outbound for around the world travelling). This makes sure that all the customers of JC Tour will be covered by Insurance in everywhere of the world they reach.
Before, During and After the service, you can contact us 24 hours.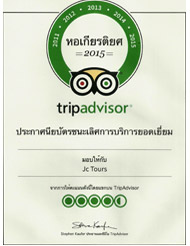 Telephone:
+66 89 5727603
Line: @jctour
Whatsapp:
+66 84 8053153
Snorkeling Trip
Canoeing & Cave Trip
Adventure Trip
Sightseeing Trip
Dinner Cruise
Transfer
Other Trip
2Days 1Nights Package
3Days 2Nights Package
4Days 3Nights Package