Tour Krabi, Krabi Tour, Day tour Krabi, Half day Tour Krabi, Excursions Krabi, all tours in Krabi
The short trip which is much do for any one had got a chance having holiday time in Krabi. By this short (4 Hours) tour trip can open and show the details concerning Krabi People. Get in touch with it by now "Just submit the booking, after read all the program and see the highlight pictures."
The traffic Light Sculpture will be located at the big Corner in the center of Krabi Town. There are so many Beautiful Sculpture Arts from the high level artists.
The Giant Crab and Giant Hawk Sculpture is the most Highlight of "Khoa Kanab Naam View" for sure, by this trip we will stop over here for a great picture for a great place of Krabi.
At Krabi Town, we have the Historical Wall shows the Krabi People Life; from the origin of life era to Civilization.
The Walking Street Market is the center of Local People Traders, Local Artist, Local Product Makers and everything concerns the Krabi Local People.

---
Why Jc.Tour:
Jc.Tour had registered for Tourisme Company under the rule of Thailand Law: Inbound(34/00235)
The right registration must be checked, and you can check for Jc.Tour at http://www.tourism.go.th
Jc.Tour is the Top Responsible and Great Service in TripAdvisor Rank.
Jc.Tour has been registering for Accident Insurance all around the world (Inbound) This make sure that all the customer of jctour is covered by Insurance in every where.
Before, During and After the service, you can contact us 24 hours.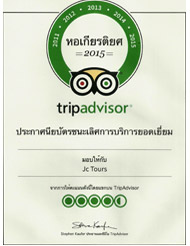 Telephone:
+66 89 5727603
Line: @jctour
Viber:
+66 84 8053153
Whatsapp:
+66 84 8053153
Snorkeling Trip
Canoeing & Cave Trip
Adventure Trip
Sightseeing Trip
Dinner Cruise
Transfer
Other Trip
2Days 1Nights Package
3Days 2Nights Package
4Days 3Nights Package