Tour Krabi, Krabi Tour, Day tour Krabi, Half day Tour Krabi, Excursions Krabi, all tours in Krabi
Khoa Kanab Nam + Japanese's Solder hidden Cave in World War II + Fishing farm + Hidden Island discovery + The Local Appointment Market.

To know the people is nice, but to study the people life is very nice. This tour package of Jc.Tour Krabi had provided this trip for everyone who love to know wider about the world and study more about the people. The bellowing is our highlight pictures and brief detail about the trip. Please see and read before submit the booking;

Take your life to see something more.
Khoa Kanab Num Mountain View from the Pier, It looks great as just the view, we are going inside.
Our staff will take care you for boarding and the Long Tail Boat takes you around the Mountain as well as the hidden place in the Mountain which the other tourist never seen.
The Hidden Caves which is the hidden place of Japanese Soldier in the World War II. On that time Japan used Thailand to be the base of World War. Uneasy to find this Cave, but you can if you book this trip.
The Nature Fishing Farm, the staff will show you from the first step to do the farm on the Sea. And yes you can see every kind of the fishes in the farm.
To meet the Island People life, our local 3 wheels taxi will take you around the Muslim Village, in the means time to study the rural local people living life. "Simple, simple but good"
The Local Village is on the far Island, the Muslim people stayed on the Island, they used the life in a very simple way, but the traditional of them is very interesting
To around knowledge about the Krabi people, you must not miss the Appointment Market of the Local People. Every kind of Products around Krabi will be sale here in the Market. Yes, shock cheap price and very fun buying.

---
Why Jc.Tour?:
Jc.Tour had registered for Tourism Company under the rule of Thailand Law: Both Outbound(31/01235) for around the world travel. Inbound(34/00235) for traveling in Thailand.
The right registration can be checked, and you can check for Jc.Tour at http://www.tourism.go.th
Jc.Tour is the Top Responsible and Great Service in TripAdvisor Rank.
Jc.Tour has been registering for Accident Insurance all around the world (Inbound: for travelling in Thailand and Outbound for around the world travelling). This make sure that all the customer of JC Tour will be covered by Insurance in everywhere of the world they reached.
Before, During and After the service, you can contact us 24 hours.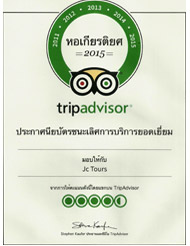 Telephone:
+66 89 5727603
Line: @jctour
Viber:
+66 84 8053153
Whatsapp:
+66 84 8053153
Snorkeling Trip
Canoeing & Cave Trip
Adventure Trip
Sightseeing Trip
Dinner Cruise
Transfer
Other Trip
2Days 1Nights Package
3Days 2Nights Package
4Days 3Nights Package